A Convenient Way To Pay For Your Window Cleaning
We know you're busy, that's why we're taking care of some of the more mundane tasks for you. We also know that you can't always be there when we finish cleaning your windows.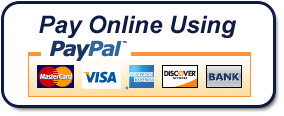 Now there's an easy way to pay for your window cleaning. You can use PayPal to submit a payment with your credit card. You don't even need a PayPal account!
How Does It Work?
Easy. Just click the PayPal link below and you'll be taken to PayPal's secure site. Enter the amount of your invoice and click 'Update'. Then give PayPal your information and click 'Review Order and Continue'. Don't worry about logging in. You don't need to. It's really that simple!